Select and listen to sermons below:
---
Sermon Title: Witness With A Warning
By: Martin Cicero
Date: 01-08-22
Mark 16:15-16
Most of us are afraid to share our faith with others and when we do it is always about eternal life. No one ever wants to hear about the other side of the coin. It all comes down to two things, 1) will you obey the commands of God and 2) do you love your Savior enough to tell others about Him.
Watch the Sermon

---
Sermon Title: My Witness
By: Martin Cicero
Date: 01-01-22
Acts 1:1 - 11

Watch the Sermon

---
Sermon Title: Conduct Ourselves Honorably
By: Martin Cicero
Date: 12-18-21
Hebrews 13:18-25
As we conclude the book of Hebrews we are asked to Pray, to have a 'good conscience' and to desire conduct ourselves in an honorable fashion. We must rely on the Great Shepherd that has brought us the Eternal Covenant and will equip us with all we need to successfully complete the mission He has given us.

---
Sermon Title: My Sacrifice
By: Martin Cicero
Date: 12-11-21
Hebrews 13:7-17
We learn what it means to be a member of the fellowship of believers and what it means to be a leader. We see that our lives are to be a continual living sacrifice to our Creator and God. We are also taught not to be carried away by false teachings as we journey to the Lasting City that awaits our arrival.
Watch the Sermon

---
Sermon Title: Faith In Action
By: Martin Cicero
Date: 12-04-21
Hebrews 13:1-6
As we approach the last chapter of Hebrews we discover a series of bullet points in which show others of our faith in God. We are to love the family of God, we are to practice hospitality, we are to remembering the persecuted and suffering, to keep Marriage honorable and we are to be free of the love of money. We must learn to be content in Christ.
Watch the Sermon

---

MORE SERMONS. . .view our Sermon Archive - click here
Weekly Sabbath Worship Sermons Now On Line Ė

And they are recorded digitally for better clarity in the delivery with out annoying background noise.


Meet Our Pastor:
"...with God all things are possible." is a verse that I truly believe. I have seen what I am capable of (not pretty) and what I can do because of the indwelling power of the Holy Spirit. Because of the Love our Lord and Savior Jesus has shown to me, I have experienced the transformation that has taken me from sinner to servant. I want everyone to love the Creator of the universe. In part I work toward this desire by teaching and preaching the word of God to all who will listen, and just as importantly, I believe that we must "live" the word every day, so I do all I can to set a Christ-like example. It is my desire that the church be the light and example that we are called to be. I have been married to the bride of my youth for over 42 years. It has been quite the adventure and we still have more to come. Along the way we have been blessed with four children that we are extremely proud of and yet we still pray for them regularly. We miss our grandchildren because we donít see them often since they live in different parts of the country. We especially miss our oldest grandchild who went to be with the Lord last year. I am a licensed minister by the Church of God (Seventh Day) Ministerial Council. I received an A.A from Cosumnes River College, a B.A. from San Diego State and a M.A. from Grace Theological Seminary. Most importantly I am called by the Holy Spirit to be one of His shepherds.
---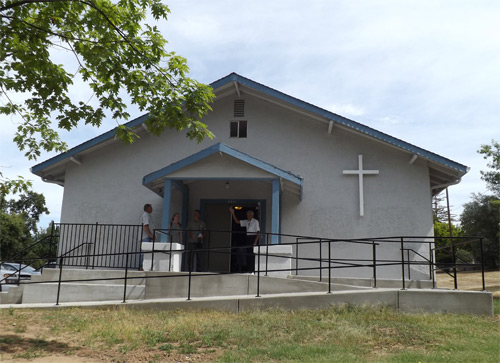 We invite anyone to come and experience for themselves by joining in with our fellowship and worship each Sabbath (Saturday).

For a schedule of services click on Contact Us