Welcome to the
Sacramento Church of God (Seventh Day)


Come one and all...Come each Sabbath (Saturday) to explore and learn from the Word of God, the Creator and Sustainer of the universe. Experience the Holy Spirit's guidance in the teaching and worship ministries of our church.



God, who at various times and in various ways spoke in time past to the fathers by the prophets, has in these last days spoken to us by His Son...
-- Hebrews 1:1-4, The Holy Bible (New King James Version)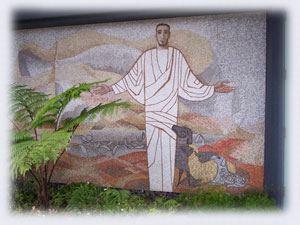 ---
Statement of Purpose

The Sacramento Church of God (Seventh Day) is a community united by its belief and faith in Jesus Christ. It exists to assist in the education and training of its members in their growth in the service of God. This service to the Lord includes ministering to people's needs, sharing the good news (gospel) of salvation, and worshipping the Lord.


SABBATH SCHEDULE

9:45 -- 10:45 A.M.
BIBLE STUDY FELLOWSHIP CLASS
FELLOWSHIP HALL

11:00 A.M.
WORSHIP SERVICE
SERMON PRESENTATION
* * * * * * *
Fellowship time after service
* * * * * * *

MONTHLY SCHEDULED EVENTS:
FIRST SABBATH: Dessert Day – After Worship service, time of fellowship in celebration of birthdays and anniversaries for the current month. In favorable weather this event is on the patio.


SECOND SABBATH: Evening Service at 6 P.M.


THIRD SABBATH: Fellowship lunch following worship service in the Social Hall.


FOURTH SABBATH: Open


(The above schedule may be changed to meet special needs of our membership. For current information contact
Five Areas of Commitment
Worship
We are committed to actively expressing our love to God through community and individual praise. It is our response to God for what he has done for us.

Building Community
We are committed to building a united community out of a diversity of people who have in common their confession of faith in Jesus Christ as Redeemer and Lord.

Education
We are committed to growth in Christian maturity through a transformation of perspective from the secular worldview to the worldview of Jesus Christ as found in the Bible.

Service
We are committed to training, supporting, and encouraging our members to serve the larger community.

Evangelism
We are committed to actively sharing the good news of salvation that comes by belief and faith in Jesus Christ.
---
Listen to Our Latest Sermon:
Sermon Title: God's Way
By: Kyle Sheffield
Date: 9-14-2019
Proverbs 4:10 - 19 (approx. 32 min.) Today we look at the two paths we can choose to take in this life. We can choose our own way and go away from God, or we can choose God's way and go towards God. We look at various examples in the bible of people choosing their own way or God's way and the impact it had on their lives. If we choose God's way we know that He will take care of us and provide for us even when life is hard. So which way are you going to choose, your way or God's way? Did Jesus live a sinless life and 2) Is the Bible accurate in all of its teachings? The Lamb of God that takes away the sins of the world had to be without spot or blemish. Jesus in order to be our Savior had to be sinless. The Bible is reliable and should be used to guide us through this life.


Watch the Sermon: click here
Download Audio Sermon: click here
Download the Powerpoint: click here




Previous sermons can be found here


---
When We Meet
We meet every Saturday morning in Bible Study Fellowship classes for adults, youth, and children from 9:45 - 10:45 A.M. Sabbath worship service begins at 11:00 A.M. Every second Sabbath we have an evening service that begins at 6 P.M.
Where We Meet
Sacramento Church of God (Seventh Day)
6641 Grant Ave
Carmichael, CA 95608
Directions:
The church is located at the intersection of Grant and Marshall.

Follow us on Facebook