Select and listen to sermons below:
---
Sermon Title: Impossible
By: Martin Cicero
Date: 6-12-21
Hebrews 6:4-6
Today we continue to look at one of the more difficult passages in scripture. As we look at it we will continue to look at a few of the reasons we struggle with it. I will answer some questions but I am sure that I will create a few more. The key is to know that the author wants us to encourage us to continue to persevere to the end.
Watch the Sermon

---
Sermon Title: Saved
By: Martin Cicero
Date: 6-05-21
Hebrews 5:11-6:10
We have been looking at the book of Hebrews and we now come to one of the most controversial passages in scripture. Before we can take a deeper look we must take a closer look at salvation and if it is secure or not.
Watch the Sermon

---
Sermon Title: Memorial Day
By: Martin Cicero
Date: 5-29-21
Proverbs 3:6
Memorial Day was originally Decoration Day and it was a day to honor those who came before us. Today we must remember that there is One greater than all these...It is our God that gave them the wisdom and strength to do what is right. Honor God and set up your memorial in your heart for Him.
Watch the Sermon

---
Sermon Title: Leaving The Elementary
By: Martin Cicero
Date: 5-22-21
Hebrews 6:1-3
We are to build on the foundation so that we might strive for becoming mature in Christ. Once the foundation is properly laid there is no reason to redo it. It is time to build a life that brings glory to God.
Watch the Sermon

---
Sermon Title: Much To Say
By: Martin Cicero
Date: 5-15-21
Hebrews 5:11-14
There is much for us to learn but sometimes we get lazy and don't make the effort to grow in wisdom and grace. We find ourselves drifting away and not maintaining our faith. We must hold fast to our confession and this is possible when we go beyond the elementary principles to the things that draw us closer to the Creator.
Watch the Sermon

---

MORE SERMONS. . .view our Sermon Archive - click here
Weekly Sabbath Worship Sermons Now On Line Ė

And they are recorded digitally for better clarity in the delivery with out annoying background noise.



Meet Our Pastor:
"...with God all things are possible." is a verse that I truly believe. I have seen what I am capable of (not pretty) and what I can do because of the indwelling power of the Holy Spirit. Because of the Love our Lord and Savior Jesus has shown to me, I have experienced the transformation that has taken me from sinner to servant. I want everyone to love the Creator of the universe. In part I work toward this desire by teaching and preaching the word of God to all who will listen, and just as importantly, I believe that we must "live" the word every day, so I do all I can to set a Christ-like example. It is my desire that the church be the light and example that we are called to be. I have been married to the bride of my youth for over 42 years. It has been quite the adventure and we still have more to come. Along the way we have been blessed with four children that we are extremely proud of and yet we still pray for them regularly. We miss our grandchildren because we donít see them often since they live in different parts of the country. We especially miss our oldest grandchild who went to be with the Lord last year. I am a licensed minister by the Church of God (Seventh Day) Ministerial Council. I received an A.A from Cosumnes River College, a B.A. from San Diego State and a M.A. from Grace Theological Seminary. Most importantly I am called by the Holy Spirit to be one of His shepherds.
---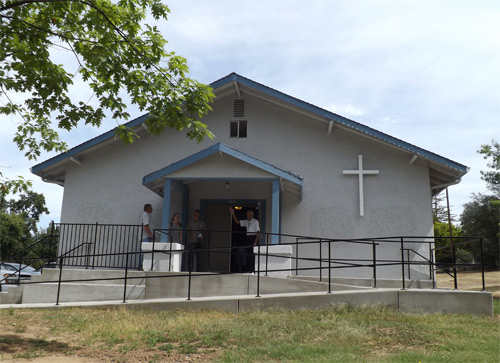 We invite anyone to come and experience for themselves by joining in with our fellowship and worship each Sabbath (Saturday).

For a schedule of services click on Contact Us